Hair Loss Solutions
Hair With A Cause's Hair Recovery Treatment Center addresses temporary, semi-permanent and permanent hair loss. Certified by the American Hair Loss Council, we specialize in hair loss solutions for women experiencing thinning or loss due to Trichotillomania, post partum, depression, anxiety and hereditary factors.
We focus on customized hair restorative programs for hair loss due to hair pulling from Trichotillomania, OCD repetitive pulling, TTM, BFBR and pattern baldness and thinning hair. 
We offer the best hair loss solutions that give you the look you've always wanted. Our services range from Hair Enhancers for postpartum hair loss, Micro Point Links {aka} Micro Extensions and Invisible Hair Grafting for Trichotillomania,  or simply,  we customize our Hair Barriers and Enhancers for each person. 

Our Trichotillomania clients do not feel comfortable wearing wigs and some of our clients are not able to wear hair extensions. We provide our Invisible Hair Barrier services as a viable option for masking the results of hair loss and prevents them from hair pulling. Because this service isn't their actual hair that is rooted from their scalp, it provides a barrier for the natural hair which cannot be pulled out of the scalp. Thus, the natural hair is safe, grows back healthier and gradually the strand grows stronger.

We offer Postpartum Hair Loss Programs for moms experience excessive hair loss after pregnancy. The medical term for postpartum hair loss is Telogen Effluvium, also known as Postpartum Alopecia. Hair loss post-pregnancy is very common and affects between 40-50% of women in the months following childbirth. Hair loss usually starts about three months after giving birth. We focus our programs between the four to six month mark of hair loss post-pregnancy.  Our clients get the best custom solution to make them feel beautiful again. 
Consultations are in-depth and schedule one on one in a upscale private environment created just for you.
For our clients who are suffering from hair loss due to thinning hair we have the perfect solution for you! Our Micro Point Links can help build density where the hair has thin especially in the front hair line or the top crown area.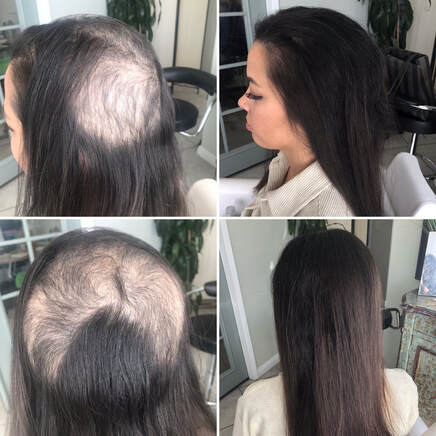 Trichotillomania Barriers 
At Hair Recovery Treatment Center, we offer a pull-free cosmetic hair barrier for TTM-Trichotillomania, that camouflages bald spots and blends in naturally with your hair.  This will provide you with the freedom from removable hair pieces, wigs, hats and ​prevent you from constant hair pulling.  With regular maintenance, your hair will grow back in and the hair pulling habit will begin to diminish, your BFRB - Body Focused Repetitive Behavior will be a thing of the past.  Our pull-free cosmetic hair barrier contributes to a better lifestyle with no worry of "coming off" even with the most rigorous of activities, as it allows you to do what has seemed impossible; i.e. swimming without a hat, going on a roller coaster ride, or just being close to someone in a relationship without having to explain your hair.  

Our cosmetic hair barrier is a part of our Invisible Hair Grafting Enhancements, this method helps prevent access to the natural hair.  Once grafted you are unable to access, pull or pluck your hair.  The goal is to achieve significant hair growth and prepare you to transition into our extended strands or integrations.

Our Invisible Hair Grafting barrier protects both the hair and the scalp. It keeps the natural hair safe from the pulling
allowing hair growth to occur. There is no tension caused by clips. It provides a strong yet gentle grip to stay in place during swimming, horse play, or even sky diving for the adventurous. It camouflages hairs that tend to stick up. It moves and feels like your natural hair which you can brush and style up or down.
It has the appearance that real hair is growing from the wearer's scalp!

It allows the natural hair to regrow if the natural hair does have the potential to regrow. In terms of follow-up maintenance, depending on your level of activity the pull-free cosmetic hair barrier will need to be maintain (for a very active lifestyle)  you will have your follow up 2 months later. The goal is to enjoy your life with no obsessive worrying about the side effects of Trichotillomania.​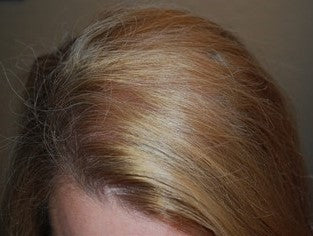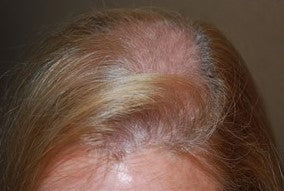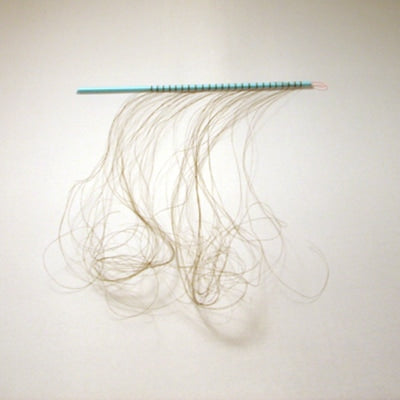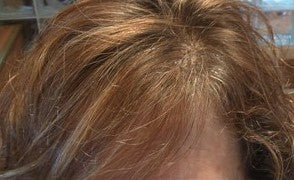 Micro Point Link Extensions
non-invasive hair extensions
Do you need to close the gap in your hair part? Or create more density in your crown? Or lengthen your bangs? Micro Hair Extensions can do it all!
The linking knot is tiny and light as a feather so the added hair looks and feels just like your natural hair. You can run your fingers all over your scalp without feeling a hair piece or an extension. It's virtually undetectable since the human eye cannot differentiate it from natural hair.
BOOK CONSULTATION
Micro Point Link Extensions
The Micro Extensions (also known as Micro Point Links) is the new method used to assist with Hair Thinning and Hair Loss. It can fill in where no other extensions can. These Micro Extensions were formulated to create your dream density, fullness, and volume. They are much stronger than naturally growing hair and they contain a high moisture content and style memory which allows you the freedom to be as active as you've always been.
Micro Extensions are the only hair thickening extensions on the market using up to 2, 4 or 6 strands of hair that are ready to be attached to a single strand of your own hair. We can add up to 600 additional strands of hair to your own natural hair in a matter of hours.
pricing is determined by desired density
Shop OAW's Recommended Hair Growth Products
How Does it Work?

We begin the process of determining what type of  hair loss you have. We will create specific options for you regardless of your stage of hair loss. We provide an hair analysis during your consultation. We work with you to design and curate a personalized treatment designed exclusively for your particular situation. 

How Can I Get Started?

We provide complimentary consultations, please call us at 424.288.4969 or click below to schedule. We are passionate in assisting you through your Hair Recovery journey.

Book Consultation

How Much Does It Cost?

Every single service is curated and personalized to fulfill your needs.  We have a variety of treatment programs and options to choose from addressing your hair concerns.